Software as a Service
signagelive provides digital signage software as a service; no servers, fixed pricing and all support and updates included. Our Digital Signage Software platform allows you to deliver rich media to virtually any device from any browser with an internet connection. It's not just about the screens on the wall: from shelf-edge displays to video walls to the screen saver on the computer you're reading this on, Signagelive unlocks affordable messaging solutions across industries and applications.
Simple, but Scalable



Drag and Drop in your web browser, no installation needed. Live video? Check. Video walls? Check. Multi-thousand endpoint, geographically distributed network with a mix of media players, file formats, HR and corporate messaging with dozens of administrators? Check, check, check, check, check, check….. and check.

Cloud Based

All you need is a display, media player and an internet connection; we take care of the rest. On-premise servers, lengthy installation and complicated licensing agreements are a thing of the past.

Affordable Digital Signage

All licences include unlimited storage, software updates, support and users.
Uses of signagelive
Our Digital Signage Software is used globally everyday to deliver digital signage in a diverse range of sectors and applications, here are a few of the most popular ones.
Food Service

Affordable Digital Menu Boards that will finally justify the ROI: save printing costs and remotely manage prices from the internet. Digital signage in food service saves money and streamlines the communications with hungry customers at everything from event center concessions to upscale, sit-down restaurants.

Retail

Shelf-edge price tags, tablets, videowalls – you name it, we support it. Digital signage moves the needle in retail by providing a flexible, real-time platform to draw attention to products, move time sensitive inventory and can engage a customer's social network.

Corporate

Don't just put a screen on the wall, use existing laptops and desktops with our Corporate Communication and Screensaver Editions. Using the existing PC's gives companies a cost-effective way to communication with employees where they spend the most time – in front of their computers.

Hospitality

Photoframes at the reservation desk, screens in the elevators and a branded TV channel in room; Signagelive is used by hotels globally to keep guest informed. Digital signage for hospitality is a cost-effective way to increase engagement and revenue with guests.
Compatible with iAdea based media players. Contact us for more information and check out our windows player range. Click Here

Features
Automate Content
Choose your own hardware
Use existing Desktops
Drag and drop
Cloud Based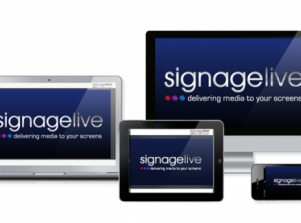 Technical Specifications
compatible with
Windows PC