HTML5 Digital Signage Web Appliance – 1080p Full Screen, 720p Multiple Zone
The XMP-2350 provides great flexibility for in-store installation by featuring Wifi LAN connectivity. It enables deployment at locations where network wiring is expensive, such as at retail end-caps, isolated retail booths, and display totems.
Easy in-store deployment
The device features the most comprehensive connectivity options, including wireless LAN capability, making it easy to deploy units at in-store locations hard to reach by network cables.
In addition, IAdea's large partner ecosystem enables cloud-based management via dozens of approved professional management software options. Device hardware features solid-state storage and advanced low-power computing technology, providing higher reliability for large project deployments.
Dynamic content
The device displays a rich blend of video, audio, graphics, and typography through the use of HTML5 and SMIL open content standards. Live data sources such as databases and community-generated content may be integrated in real-time using JavaScript programming. The device further supports the Google Android API and allows users to develop custom advanced applications including interactivity, real-time analytics and rich peripheral programming.
Remote maintenance
The ability to perform content, configuration, application, and even firmware updates over the cloud greatly reduces maintenance cost during the life cycle of large content networks.
Features
Optimized for HTML5 and multimedia content
Robust for large-scale deployments
Supported by most management solutions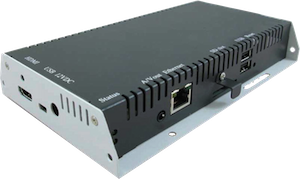 Technical Specifications