Convenience of the Wireless LAN
The XMP-3450 incorporates the latest wireless LAN technology and effectively reduces installation cost at deployment sites. By incorporating optional 3G/4G access points, the XMP-3350 can further be integrated into the mobile network architecture.
Solid Performance
The XMP-3350 is built using high-performance hardware-based media decoder chip capable of reproducing brilliant video performance up to 1080p. Unlike conventional player built using PC technologies, the video performance of the XMP-3350 is guaranteed by hardware and would avoid stuttering typical among software decoders.
Most Software Options
IAdea pioneered using the W3C SMIL (Synchronized Multimedia Integration Language) technology to establish the industry's first open platform. SMIL devices enjoy the largest number of great supporting software in the industry. This gives you the power to choose the solution that works for your project. IAdea again re-invented the industry by introducing the first HTML5-capable media appliance. Touted by technology leaders as the next greatest platform, HTML5 enables IAdea devices to be easily programmed for almost every imaginable application.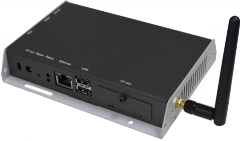 Technical Specifications